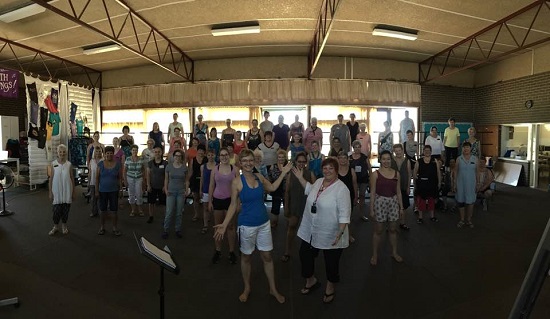 PHC welcomed barbershop royalty to Perth over the Labour Day weekend, as Kim Vaughan arrived to coach us over two days and two nights. Kim is a three-time Queen of Harmony and Champion chorus director and is one of only eight women to have won a crown and directed a champion chorus. Kim's coaching came as the chorus continues to gear up for May's convention in Perth and for performances at a number of events, before heading to the international competition in Vegas in October.
The coaching began with the chorus taking time to focus on an individual and chorus goal. Early on, Kim also challenged each person to take responsibility for delivering their own performance while contributing to the unit sound. Other themes that emerged were the importance of reflection time during rehearsals, sticking with the work task until we've delivered what is demanded and paying close attention to, well, everything. We also had to clean a LOT of grout! (aka cleaning up chords)
Yes, we remembered to listen; yes, it was hard work; but we had a fabulous time! And we learnt a HUGE amount. We also had the pleasure of listening to some brilliant stories from HRH Kim along the way.
Thank you, Kim, for the best weekend.