Broadband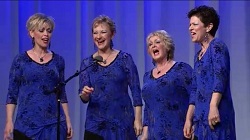 Broadband is made up of Jessica Bullen (Tenor), Carole Macintyre (Lead), Patricia Spencer (Baritone) and Alison Martin (Bass). They most recently took to the stage in Perth 2017, where they competed against quartets from across Australia for the third time since forming in 2014. In their short time together, Broadband has placed 2nd, 3rd and 4th, respectively, in each of the national competitions at which it has competed.


Shortcut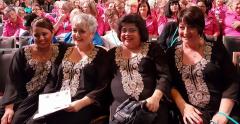 Gillian Rajasingham (Tenor), Gina D'Souza (Lead), Lauretta Hall (Baritone) and Helen Burke (Bass) are ShortCut Quartet. This dynamic foursome placed third at the Region 34 contest in Hobart in May 2018. They also won gold in the invitational section at the BHA Western Region Contest in April 2018 - on their first outing together!

The singers say that everyone should be in a quartet, as it's magical and soul satisfying! ShortCut will continue singing together because they have so much fun performing and want to carry on bringing joy to everyone around them.

Perth Harmony also has a number of other quartets who regularly rehearse and sing together. We expect that some of these groups will compete at the next national competition in Hobart in 2019.