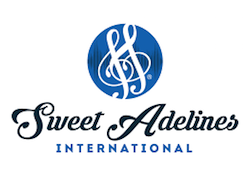 Sweet Adelines International
Perth Harmony is a member of Sweet Adelines International, a highly respected organisation of 20,000 women around the world singing in 500 choruses. As one of the largest singing organisations in the world, Sweet Adelines is committed to advancing the barbershop art form through education, competition and performance.
Each year, Sweet Adelines holds a national competition for around 30 Australian choruses. The winner is invited to represent Australia at an international competition – usually held somewhere in the USA.
Perth Harmony is a regular competitor on national and international stages and, as a member, you would take part in these exciting events.






Sweet Adelines Australia
Perth Harmony is also affiliated to Sweet Adelines Australia. Every week, 1,300 women sing in 32 choruses across the country.